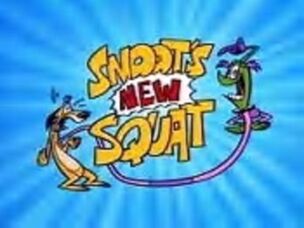 Snoot an alien lifeform is flying through space in his spaceship and receives an assignment from the General telling him to find a new home on earth something fuzzy on earth in an office a paranoid dog named Al is telling the Lion Doctor his problem saying that his tail is wagging back and forth when it should wagging up and down and shows him his tongue which is wet but the Doctor assures him that there is nothing wrong with him that it's all in his head and escorts him out of his office as he goes home Snoot spots him knowing that he is fuzzy and lands on him causing him to itch and burn so he uses flea powder which puts a bad taste in Snoots mouth as soon as he pulls him off he calls the Lion Doctor on the phone who is getting massage and tells him that an alien flea on his him but he does not offer to help him instead he informs him of a golf game he's got coming up and does not want to be disturb and hangs up the phone so Al tries other things to get rid of Snoot but fails and when Snoot tells him he needs a doctor he rushes over to the golf course and tells Lion Doctor to call some other doctors call healthy society and the Doctor says he'll call someone so he dials the number and talks to Lobotomy Doctors telling them that he has an insane patient driving him nuts about having an alien and informs Al that an lobotomy is a surgical operation to looney people such as himself where they cut off the tip of his brain and ask Al which straightjacket he wants yellow green or extra crazy but Snoot does not like how Lion Doctor is threatening to remove Als brain and gets another call from the General asking him if he found something fuzzy and he tells the general he has and then the General and the other Aliens reach earth and jump on the Lion Doctor causing him to each suddenly the ambulance the Doctor has called arrives that happen to be two Alligators and when Lion Doctor tells them that he has aliens on his fur the Two Alligators believe him to be the crazy one instead and grab him and toss him in the back of ambulance and take him away and Al becomes buddies with Snoot after he saved his life from the lobotomy
Ad blocker interference detected!
Wikia is a free-to-use site that makes money from advertising. We have a modified experience for viewers using ad blockers

Wikia is not accessible if you've made further modifications. Remove the custom ad blocker rule(s) and the page will load as expected.